Musik Tent Instrument Humidor Review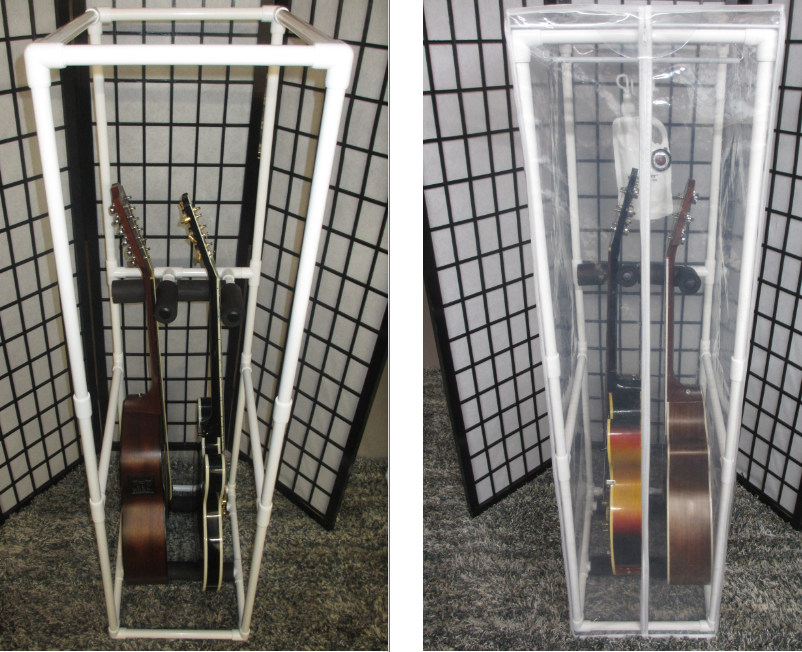 A few years ago, I decided to finally take the plunge and purchase my first concert classical guitar. After years of playing "student models" (some of which still cost upwards of $3500), I wanted to get a true concert level classical by my favorite maker.
For years I had wanted a cedar double-top classical guitar by the Canadian guitar builder, Fritz Mueller. With a price tag of just under $10,000 and an 18 month wait, I knew I wanted to protect the guitar as much as possible once it arrived. Fritz recommended to keep the guitar around 50% percent humidity.
As the date for the guitar's arrival was nearing, I started searching for a good guitar humidity control solution. I had already been through all of the various in case humidification methods, and had the finish of my most high end acoustic damaged by them.
So from my internet research, I came upon the Musik Tent by Origineer Design, which at that time was in its early stages. I received my first Musik Tent and immediately put it to use storing my new concert classical and my main electric guitar, a Fender Eric Johnson strat.
Once assembled, just one container of distilled water would last me about 8 months. I just simply never thought about it. By habit, I would always check the provided hygrometer to see if any adjustments needed to be made when I was grabbing one of the guitars to practice, but other than slightly shortening or lengthening the filament (takes about 3 seconds), I could just forget about it.
Besides the Fritz Mueller classical being kept at an optimal level of humidity, something else happened that I wasn't expecting. My strat, which typically needed a new setup with every seasonal change, seemed to hold its setup much better. Living in that Musik Tent controlled environment (except while I was playing it), made the instrument much more stable. I now get it fixed up about once a year and that is all I need.
So with the success I had with my first Musik Tent, you can see my YouTube review of it from 2016 here, I was thrilled when they came out with a bigger freestanding version. So about 4 years after my first Musik Tent, I got another one! The reason I wanted a bigger one was because, I like to keep the concert classical in its case since I have a lot of rescue dogs in my house and they are always running wild and bumping into things. So the newer, larger Musik Tent allowed me to put not only the classical case in the tent, but also a couple of valuable electrics as well.
The newer Musik Tent also comes with a better hygrometer, and everything all around has been upgraded. I did have a bit of trouble assembling the tent and needed to get my brother to help me, but after that, it has stayed very stable ever since.
So if you have valuable instruments, or at the very least, want to stop having to pay to get a new setup for your guitar a few times a year, I highly recommend finding a good humidity control solution, especially if you live in parts of the country that have times of the year where the humidity is very high, or times when the weather gets very cold, and the indoor heating takes the humidity down to very damaging levels for musical instruments.
The Musik Tent is the best choice for me because of its ease of use and the price. Humidification cabinets can run into the many thousands of dollars which is just not possible for most people. The Musik Tent instrument humidor solved those issues for me at a very very reasonable price. 🙂
Carl Brown, GuitarLessons365.com